Fitness Isn't a Chore When It's FUN! Part 1 of 2
By Shotokan Karate Leadership School in Santa Rosa, CA
Training at your local Martial Arts facility provides a remarkable series of experiences that are anything but boring, same-old same-old routines! Training gradually improves your abilities, incrementally reaching personal goals in a safe and fun environment. Martial Arts are well known for their ability to develop impressive combat skills and self-confidence. They enhance strength, stamina, focus, reflexes, and more. And it's more fun, more motivating to sweat and train with classmates who share your interests and support your goals!
But a quality program will provide much more than mere yelling, jumping, kicking, and punching. Whether confidence, discipline, fitness, or self-defense is one's motivation for training, the central aim of every Martial Arts student is to improve. To get tougher; to be more adept and effective. We train to conquer obstacles and fears, to broaden our capacities, to learn and earn respect in all areas of life. It shows in our Black Belt attitudes – and in our physical fitness!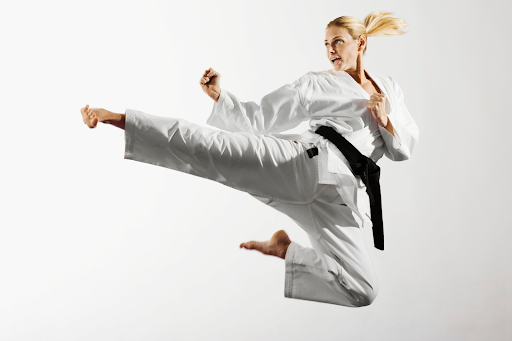 If your exercise routine is no longer motivating, or seems to be producing less and less of the toning and conditioning results you want, you just have to try Martial Arts at Shotokan Karate Leadership School! Consider: you've tightened your abs, stretched your hamstrings, and built your biceps, but have you done any work to stretch and build your mental stamina? Exercise helps your body's systems resist stress-related disorders and dysfunctions. Martial Arts training for many is intense, relaxing, and ultimately satisfying all at once. In large part we must thank our incredible brain chemistry for the relief and improvements we receive.
Martial Arts training helps practitioners "keep our cool" – stay calm and not panic or overreact – in stressful situations. Simply put, through our practice, we learn to control our minds and bodies so that less adrenaline is released whenever we experience stress. 
Here's how it works: The brain neurologically signals the body to produce adrenaline during stressful situations, but the surge is beneficial only for short periods of time, not long-term. Long-term exposure to adrenaline is now known to cause many physical problems. It can contribute to headaches, digestive problems, colds, high blood pressure, heart disease, and even stomach fat! According to Barbara Brehm-Curtis, Ed. D., professor of exercise and sport studies at Smith College in Northampton, MA, "If done consistently, physical activity actually reduces your stress reactivity. That means less adrenaline gets released and you don't get as stressed out by things that used to upset you." 
…to be continued
Please visit https://askaboutkarate.com/ for information about our martial arts school in Santa Rosa, CA!
Website Blog built by Go2Karate Sites, a company of Rev Marketing.